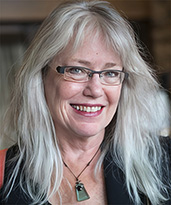 As editor-in-chief of Strategic News Service, Sally Anderson serves as the SNS Global Report and Special Letters editor, production manager for SNS and Future in Review (FiRe) conferences and websites, and manager of SNS publications, from books to associated conferences and other global SNS events.
As sole proprietor of Red Pen Productions since 1990, Sally has been a book manuscript editor, Web content consultant, and writer and/or editor for clients including the Smithsonian Hirshhorn Museum (Communication Arts Award of Excellence, 2003), Peabody Essex Museum (Yin Yu Tang: One Show Interactive Merit Award, 2003), msn.com, Seattle Weekly, Microsoft Press, secondstory.com, Miami Aviary, Minneapolis Zoo, Sasquatch Books, Seattle Arts Commission, Aldus, KCTS magazine, Bay Press, Washington magazine, and authors of fiction and nonfiction.
In 1997, Sally became the first executive editor at Bill Gates' Corbis Productions after serving independently as lead editor, associate producer, and writer for the award-winning CD-ROM Leonardo da Vinci. She created Corbis' first corporate style guide and co-produced history, travel, educational, and pop-culture Web features, working with experts in photography, film, multimedia, and technology, including the Ansel Adams Trust, Ken Burns, David and Peter Turnley, Martin Kemp, Chris Rainier, Roger Ressmeyer, and Curtis Wong.
From 1999 to 2001, Sally was part of a small team hired by Amazon to launch and populate a series of content-rich Web stores, including some of Amazon's most successful stores today. In February 2003, with poet Sam Hamill, Sally was co-editor of the anthology Poets Against the War (Nation Books). In 2003-2004, she served as lead editor of the PAW website, hiring and managing a team of 30 editors around the world, and served on the PAW board of advisors. In 2005, she conceived of and served as creative consultant for the documentary Voices in Wartime (director, Rick King; producer, Andrew Himes), which became the basis of curricula for the Voices in Wartime Education Project.
Sally holds a double BA in Comparative Literature and Fine Arts from the Evergreen State College, with earlier studies at Harvard University and the University of Massachusetts in fiction writing, literature, studio art and art history, psychology, and classics. A former exhibiting painter, she's an enthusiast of the arts, as well as of fresh local ingredients, language studies, an adopted cast of Taiwanese quadrupeds, and those who try to make things even a little bit better.